Investing in short term rentals can be a great way to grow your wealth. Historically, rental property hasn't delivered substantial cash-flow. With STR's that has changed. You can participate in appreciation, depreciation, cash-flow, and higher ROI. Below we share the steps to take to get started investing in short term rentals.
How to Invest in Short Term Rental Properties
Determine Your Why for Investing in Short Term Rentals
You've heard the hype and you've decided that you want to take the plunge of investing in short term rentals. This could be having a unique stay, like a container house on the edge of the great Smoky Mountains, or it could be a relatively simple 2 bed 1 bath condo located in a highly desired area. No matter the offering, it's important you determine your why.
There could be a number of reasons "why" you might be considering investing in short term rentals.
Cash Flow
You've heard or seen the amount of money that some people are hauling in with their short term rental properties. You'd love to supplement your income or perhaps even replace your income with short term rental income.
Vacation Hacking
You'd like to offset one of your vacation expense. This was one of the big draws for me. I've always thought about how much does a vacation really cost? If I were to go on a $5,000 vacation, how much do I need to earn? Likely, I'd need to somewhere between $6,500 and $7,500 in income. Once Uncle Sam take's his cut, I'd be left with $5,000 for vacation expense.
How could this be offset? By buying a property in a place that I like to visit. It's likely you will have to go to the property to check on it quarterly if not yearly. It's important that you do a visual inspection of your property to make sure that it's condition is being maintained and it's likely you'll need to do some maintenance.
I'm not a CPA nor do I pretend to be. It's important that you talk to a good CPA that understands short term rentals and can offer you guidance to help you maximize your returns. Perhaps your CPA will tell you that you can write off your travel expense to your property. Maybe it's tracking your mileage as you drive down there or the cost of the plane ticket to get there. Now all of a sudden you are able to deduct $0.575 per mile driven to go check on your property. If it's a 1,000 miles there and a 1,000 miles back we are looking at $1,150 tax deduction. And seeing as you'll be staying on site of your property you'll no longer have the high cost of renting out a place. That combined with the income the property brings in, it can be a great way to offset your vacation expense. Imagine having 3 or 4 across the United States and they just so happen to be a place you'd like to vacation.
Investment
In addition to some of the cash flow, perhaps you're just looking to invest in real estate. You want to buy in areas that are appreciating rapidly and it's becoming harder and harder to find a long term rental in the area. Since you can often times make more money with short term, now you can buy in that highly desired area and get an appreciating asset.
Get A List Of
648 Michigan zip codes
with projected revenue
Determine Your Budget

Before you start putting in offers and closing deals, it's important to know what your budget is for investing in short term rentals. How much money do you have available to you? Some of the areas that you want to buy property in could be a very expensive and require a lot of capital. Depending on your why, you can find properties in under the radar locations that cash flow like crazy. Someone that has helped me out in my short term rental journey buys in small towns in Kentucky. One property in the $160,000 range and is bringing in $300+ per night and is booked solid. You can expect to spend two to three times that in highly desirable areas like Gatlinburg, Tennessee.
Determine How to Finance Your Short Term Rental
Depending on your budget, there's going to be some different options for financing. Are you going to finance it with a conventional mortgage and put 20% down? You can also put as little as 10% down for your "vacation home." We decided to do the 10% down, making the upfront cost significantly less. I've heard varying opinions but I've heard that you can do one 10% down property per location. Essentially I could have one 10% property in Gatlinburg, TN and one 10% down property in Savanah, GA. This would allow you to scale your short term rental portfolio faster.
What are some ways you can finance your short term rental?
Traditional 20% down from your bank
10% down vacation property loan from your bank
owner financing
Hard money lending
And paying cash
Decide on Local or Long Distance Short Term Rental Investing
When you decided your why for investing in short term rentals, it will help you determine if you want to invest closer to home or if you want to do some long distance real estate investing. If your why was because you wanted to reduce your vacation expense to Florida every year and you live in Michigan, it will clearly be long distance.
There are pros and cons to owning a short term rental that is close by and one that is further away. When it's closer to home, you will be able to do a lot more yourself. If you need to go over there and fix something, you'll have that option. With it being close, you'll also have the option to clean it yourself and keep the cleaning fee.
There are a couple benefits of investing in long distance short term rentals. One of my favorites is that you have to learn to automate the business. Because you won't be there to handle everything, you need to set it up in such a way that it can run without you.
You will need a great team or property manager to handle the day to day. Long distance investing may not be ideal for your first one, but it's definitely doable. Our first one was an hour away. This was far enough that we couldn't go over there for everything but close enough that if we had to, we could.
Another great benefit of long distance is that you are now open to endless opportunities. If you are limited to just the areas that are close in proximity to you, then you may be severely limited in terms of revenue. Once you are open to long distance investing, the potential for significantly higher revenue opens up.
Hone in On a State or Region That You Would Like to Invest In

You've decided on local or long distance, now it's important to really layout the areas that you would consider buying a short term rental. If you want an STR in Tennessee, is it only in one specific area? Or would you be interested in a few different areas? Is it just Gatlinburg or would you consider Pigeon Forge and Sevierville? Go ahead and make a list of the states that you are interested in and cities/areas that you may be interested in within that state.
Is there specific attractions that brings continuous droves of visitors to the area? Does it have a long track record? When you look at the number of visitors to the Smoky Mountains over time, you can see that it's on a continuous trend upwards. Even in 2008 it only took a small dip during one of the biggest recessions of our lifetime.

Is there a major college nearby? Will you be able to garner big bucks during college game day?
Do Market Research On Your Areas of Interest
It's important that you do your market research when it comes to short term rentals. There's never going to be a guarantee on how much you make with your STR but it's important that you feel confident about the area and the potential income it can bring in.
There's a lot of great short term rental software to take the guessing game out of it. During the initial scouting phase, I like to use AirDNA. Here you will be able to use the specific property address and it will give you a ballpark number that you can expect from your short term rental.
It uses all the available AirBNB and VRBO properties in the area and looks at historical rental revenue. They use that information to provide you with an amount you can expect in annual revenue. There's going to be some limitations but it's a great way to get a feel for what your rental can bring in. AirDNA will take into account the number of beds, baths, and how many people it accommodates but what it won't take into consideration is extra amenities like hot tub, sauna, pool, etc.
You'll have to find what numbers you are comfortable with but I try to find something that will be 20% or higher off the information input into AirDNA. You'll want to get a feel for what the demand is like in the area and how many STR's are already operating. I like to browse the current listings to see what people may be missing or what some of the shortfalls in the area may be.
At the end of the day, this can be a really quick process. If you check AirDNA and the return appears to be low, move on to the next location.
If you feel great about a specific location and want to start looking at houses, you could buy the market report from AirDNA. I think it's around $20/month and it gives you an even deeper analysis. You can even schedule a call with someone from AirDNA to walk you through the numbers (it's included with the $20/month). This is what we did and once we purchased our STR we cancelled our subscription.
Verify Legality and Regulations of Short Term Rentals in Your Area

Now you might find a hot location and get let down by the fact that the township does not allow STR's. We had that happen many of times when we first started looking for a property.
We actually started visiting properties and just when we would fall in love with the property we'd call the township and get told that they don't allow it. Save some time and verify that they are allowed in the area prior to making the drive, especially if it's significant.
Your best bet for determining whether or not short term rentals allowed in that area is to call the township that the property is located in or the townships you will be looking for properties in. If it's in Michigan, you may want to check out our STR regulations resource page.
You may run into some interesting situations. One that we ran into was that because STR's weren't specifically called out to be allowed they were prohibited. Puzzled the heck out of us.
Another thing you will run into is that many townships say it's not allowed but there are a ton of rentals on the various platforms. There can be several reasons for this, two of which are:
There may be some properties that are grandfathered in. They got their property registered with the township and operated it for a period of time and then the township decided to stop allowing short term rentals.
They could be operating without the proper registration and licenses.
It's best to make sure that you work with the township to obtain the proper licenses and permits for your STR. By doing this, you will have a good case for getting your property grandfathered in shall they ever try to stop allowing STR's.
Find a Realtor for Your Short Term Rental Search
The next step is finding a good realtor in the area to help with your short term rental search. If it's local, you'll want someone that can take the time to show you the properties in the area.
You can find a good realtor by asking for referrals. You could ask people friends and family for a referral. You could post on social media like Facebook or LinkedIn and ask for suggestions. You may try joining the BiggerPockets forums and ask for a licensed realtor that specializes in short term rentals.
Make sure you are clear with your realtor that this is a short term rental property. When you are going through the properties, you and your realtor should being looking at the property through the eyes of the guests.
What will the guest experience be at this property? What type of guest experience do you want to provide? Are you trying to provide just the basic room and board with a roof over somebody's head? Or are you looking to really wow people. When they step on your property they say this is the coolest property I've been to. In fact, just last night I received a message from our guest that says:
"Your place is wonderful. My husband said this is his favorite rental yet and has the best attention to detail."
That's enough to put a smile on your face. If you really want to bring in some hefty profits you'll want to have a unique and exceptional property.
Start Shopping for Short Term Rentals
Start using sites like zillow or realtor.com to see what types of properties are available. Look for unique features. The structure could be unique, it could be on the water, it could have something unique on the property, or it could have a pool. These are all things that could be appealing to guests and could make you more money.
As you come across your properties, plug the address into AirDNA's market minder. Include the number of beds and baths that the property has. What does it say the property will generate in terms of revenue? Once you find one or more that catches your eye, have your realtor schedule a showing. If you are shopping for property at a distance, you'll want to make sure that your realtor can do a virtual walkthrough with you.
You can jump on a Zoom call with them and they can hold the phone going room to room to show you the property. You can ask them questions as they go room to room. This may sound scary if you have never done this before but don't worry. When you have the property inspected, every little detail will be snuffed out.
Determine the Cost of Repairs for Your Short Term Rental
Is the property turnkey? Or is it in a state of repair? Have a contractor go through the property with you to quote you on the various projects. If your main objective is to get a good ROI on your investment, you'll need to know what all the upfront cost is.
Once you know what the cost to repair the property is, determine if it will have an impact on the after repair value. Will the property increase in value after the repairs are made? Knowing this up front can help guide you on determining whether the property is a good investment or not.
Make an Offer
Once you have determine the property meets your short term rental buying criteria, it's time to make an offer. Work with your realtor to determine what the offer looks like. Will you need to go above and beyond the asking price? Will you need to waive inspection?
We got ours by using an escalation clause, which means we offered a certain amount and if someone were to outbid us we would go up to a certain predetermined level. Good thing we did because we got outbid. Learn more about escalation clauses and when to use them.
We also used an appraisal contingency which says if it doesn't get appraised for what we offered, we'll guarantee a certain amount of cash be brought to the table.
Get an Inspection
In order to compete, some people will waive inspections. That's something I've never been comfortable doing. I'm not the most handy person and I inevitably would overlook a lot of critical items. I like using the inspection to help make sure everything is functioning properly and that I don't overlook anything for the guests.
There's certain things that will come up on the inspection that will help reduce the liability and improve the safety for the guests. You can ask your network to refer a good home inspector or you could do a quick google search for home inspectors in the area. Depending how competitive your market is, you may be able to ask for some seller concessions after you get the inspection report back.
Make the Necessary Repairs & Mitigate Any Potential Liabilities
Once you get your inspection report, prioritize the items from most important to least important. The things that should get prioritized are those that involve guest safety.
Is there a deck that is in need of repair? Are there outlets near water that don't have GFI's? Not everything on your inspection report will have to be tackled immediately but anything deemed unsafe should be taken care of prior to your first guest.
How to Furnish Your AirBNB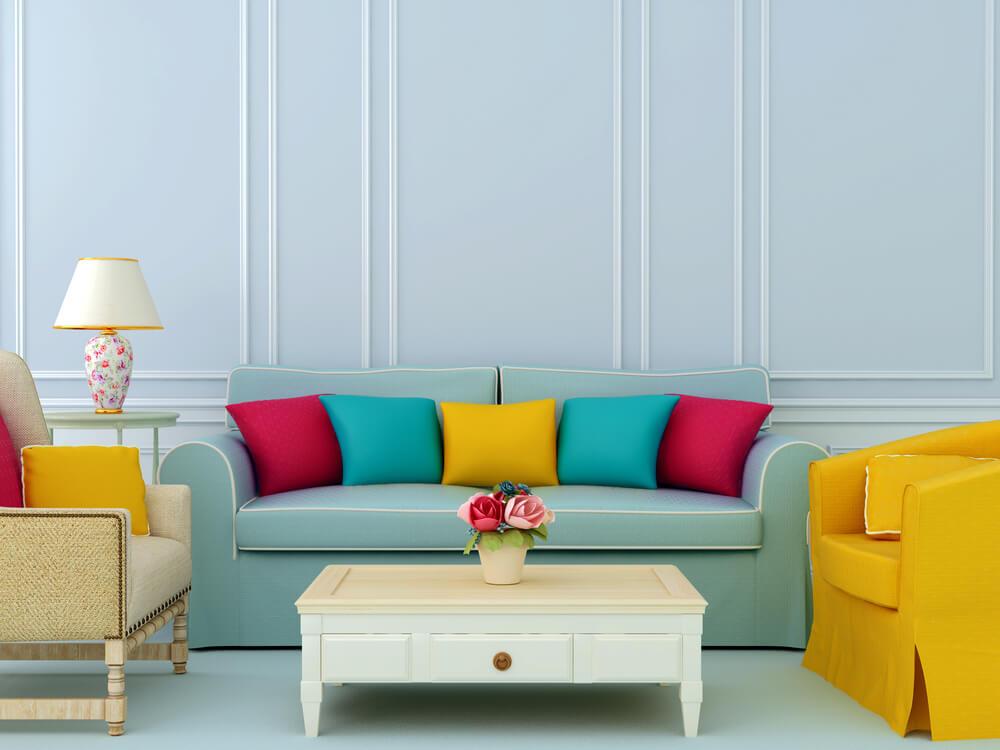 One of the best tips I have heard but have not put into practice is that someone that has bought multiple short term rentals buys the same thing for each property. This makes ordering furniture a cinch. They have an Amazon list and each time they buy a new property they just go add the list their cart again.
The way we furnished ours was through a lot of Facebook marketplace shopping and garage sales. We were able to find a lot of good deals and save some money but we also ran into some issues. Sometimes you don't realize that there's something wrong with it until you have it back to the property.
Our best finds were garage sales where people were moving. They were practically giving stuff away and they did. They gave us a 32" flatscreen because they had to get rid of it.
It ended up taking a lot of time. We also had to rent multiple uHauls to get the furniture there. Looking back, we probably could have bought a lot more and had it shipped instead of driving all over to find it.
One of my best recommendations here is if you like the furniture that's in the house that you are trying to buy, work it into the offer. Try to get them to leave as much furniture as possible. Not only do you not have to go pick it up but you'll likely save tons of time having to assemble stuff. We were able to get several bunk beds and dressers included in our first purchase. Seeing as I assembled my kids bunk beds at home, I know just how much time this ended up saving. 
Related: How Much Does it Cost to Furnish an AirBNB (Calculator)
Decorate Your AirBNB
Here's where you really have to go above and beyond. Decorating your short term rental is really going to make a first impression on the guest in the pictures but also when they arrive at the property. If you are not known for being creative and your ability to decorate, make sure you find someone that is. Whether it's a family or friend, or even if you have to hire an interior decorator it will make a big difference especially if you want to bring in more money.
Even the little things like making sure you have the right pillows for your vacation rental matters.
Browse the short term rentals around you for inspiration. Are you trying to follow a certain theme? Is it a waterfront property? Are you close to Disney World? All these can have an impact on how you decorate. If you will be having a lot of kids stay at your property, it's always fun to have a room decorated just for kids. If you make it fun and exciting for them, the parents will appreciate it.
Related: Pillow Protectors for Vacation Rentals
Take Professional Photos
Don't skimp here. Make sure you hire a professional photographer to come take photos of your short term rental. High resolution photos are one of the most important ranking factors in AirBNB search results. That means when somebody searches your properties city, if you want to be at the top, professional photos will help.
A mistake we made when hiring a photographer was we used a real estate photographer. This is the same person that when someone is selling a house they will go in and take photos for the listing agent. The photos were good but there were a lot of shots that were missing. They missed a lot of small details that would help draw guests in. Learn more about why not to hire a real estate photographer for your short term rental.
You should also include a screenshot of your WiFi speed. You can find your WiFi speed here. Then simply screenshot it and include it on your listing.
Determine Your Platform

Where are you intending on taking reservations? AirBNB, VRBO, booking.com? Do you plan on doing 1 or all?
We signed up for VRBO and AirBNB. There can be pros and cons to having your listing on multiple platforms. Being on multiple platforms allows for your property to get more exposure and possibly get more bookings. By being spread out across multiple platforms right out of the gate, there is a chance that you could reduce your ability to gain higher rankings in the search results. If you get three bookings from three different platforms and you get a five star review on each, it's probably not as powerful as having three five star reviews on one platform.
You can learn more about why you should only list on one short term rental platform.
Although we started on both VRBO and AirBNB all of our reservations came from AirBNB.
Write a Great Description
Not only is it important to sell through your photos it's important to have a great description. Here's where you will fill in all the gaps that the photos couldn't capture. What makes your property special? What's nearby? What can your guests expect? Describe the property and the different rooms. Not a wordsmith? No worries. We used a description writing service.
Add Amenities
The more amenities you can add to your property the more likely you'll attract different types of guests. Add a high chair, crib, toy's, etc. to help attract families. Add a washer and dryer to help encourage longer stays. What type of amenities can you add to make it more unique? Our short term rental had a sauna and a hot tub. It's not everyday a house will have both. Make sure your place has all the essentials especially in the kitchen.
Automate the Short Term Process
At the beginning you may find that you put a lot of time and effort into managing your short term rental. You're answering all the guest questions. You're taking care of all the maintenance. You are scheduling your cleaners for the property.
Most of this can be automated or streamlined if you desire. It may be essential that you're involved on the front end but overtime, you may want to start removing the work from your plate. There's various tools and software that can you automate your short term rental processes including smart locks that give your guests a streamlined check-in experience.
Related: Check-out Instructions Template for Your Guests
Build Your Short Term Rental Team

Make sure you are working on building out your team. This could be in the form of finding a good property management company for your short term rental or you have people on your team.
Some of the best advice I received was if you are hiring a cleaner, inquire on whether they know somebody that is extremely handy. It could be their spouse, boyfriend, dad, brother, etc. Finding a cleaner that may also have access to someone that is very handy will go a long ways. Learn how to share your AirBNB calendar with your cleaners.