As the sport of pickleball continues to gain momentum across the United States, vacationers are increasingly seeking unique stays that cater to this fast-growing pastime.
If you're one of the many enthusiasts looking to combine the excitement of pickleball with the relaxation of a getaway, look no further!
We've rounded up some of the most exceptional Airbnbs in Michigan that not only offer top-notch accommodations but also feature private pickleball courts.
Whether you're a seasoned pro or a beginner eager to learn, these destinations provide the perfect setting for both athletic enjoyment and serene relaxation.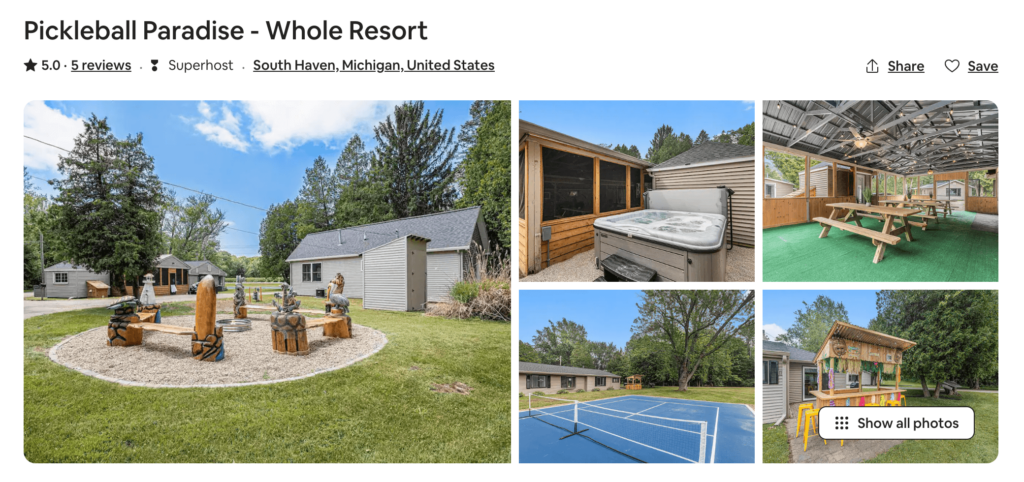 Welcome to Pickleball Paradise, a sprawling 2.7-acre resort in South Haven, Michigan, offering a uniquely immersive experience for groups up to 23 people. This idyllic haven merges the thrill of pickleball with the natural serenity of a woodland retreat. Located just 1.5 miles from downtown South Haven, it provides the perfect balance of isolation and accessibility.
Accommodations
Four distinct cabins—each with its own kitchen, living room, and bathroom(s)—offer cozy comfort and modern conveniences.
Pickleball Pines: This main cabin features three bedrooms and two full bathrooms, along with two spacious living areas and a full kitchen. The attached atrium offers an enchanting indoor/outdoor space for relaxation.
Blueberry Bungalow: Ideal for couples, families, or friends, this cabin has one bedroom, one bathroom, and a fully-equipped kitchen.
Coastal Cove Chalet: This luxurious cabin offers one bedroom, one bathroom, and a welcoming living room, along with a full kitchen.
Southhaven Shores: A picture-perfect retreat with one bedroom, one bathroom, and a full kitchen, perfect for a small group or couple.
The Pickleball Experience
The resort's regulation-size pickleball court serves as its crown jewel, inviting both pros and novices for competitive fun. Complement your games with a drink at the courtside Tiki Bar or relax in the designated firepit area, complete with custom-carved benches featuring whimsical sea creatures.
Amenities and More
Beyond pickleball, Pickleball Paradise offers an abundance of amenities:
Hot Tub: Perfect for post-game relaxation.
Games Galore: Enjoy ping pong, cornhole, fowling, and other fun activities.
Screened-in Atrium: Experience the outdoors, protected from the elements.
Digital locks secure your space and are provided on the morning of your check-in.
Explore South Haven
Explore downtown's charming shops and restaurants or visit its beautiful beaches, all just a short drive away.
Book your stay at Pickleball Paradise today.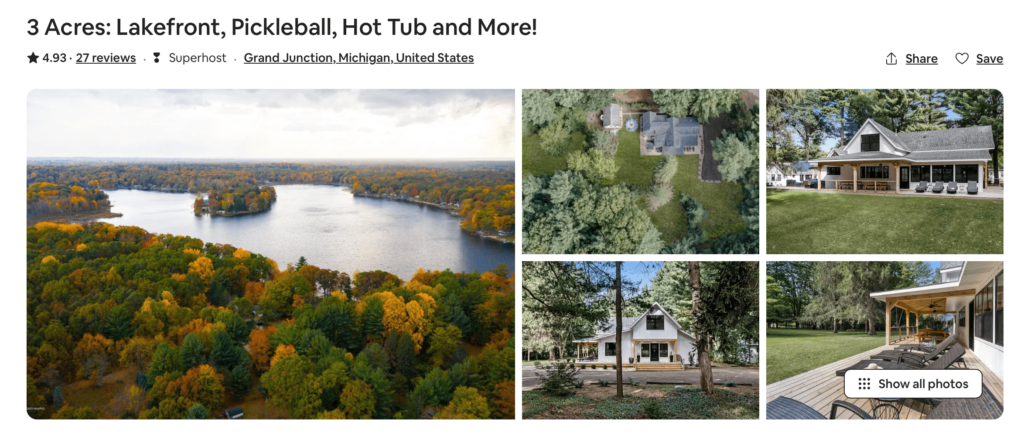 Located on the stunning, spring-fed Saddle Lake, this unique property is an outdoor enthusiast's dream. What sets it apart is its multi-use court, designed for both pickleball and basketball. With a dedicated space to enjoy these fast-growing sports, this home guarantees a memorable stay for active families and friends.
Alongside pickleball, the 2 1/2-acre property is an active family's haven featuring a baseball area, beach volleyball, bocce ball court, and even a hot tub. Water-lovers can make use of the two kayaks, a sailboat, and paddleboards included with your stay, or dock your own boat at the private dock.
Inside, the main 3,800 sq-ft house accommodates large groups with four generously-sized en-suite bedrooms. The home also features a large deck, a fully-equipped kitchen complete with modern amenities, and a three-season room to soak in the surrounding beauty. For indoor entertainment, the house offers a karaoke machine and a large 65″ flat-screen TV.
The property also includes a separate guest cabin, adding a pool table, additional beds, and a full bathroom to the already extensive list of amenities.
Note: This property is designed for multi-generational families and is not a party venue. Enjoy the comforts of home while respecting the hosts' focus on creating a family-friendly environment.
From hiking and biking on nearby trails to skiing in winter, this property offers year-round activities and is only a 15-minute drive to the resort town of South Haven. Ideal for families and sports enthusiasts, this Airbnb allows guests to experience Michigan's outdoor beauty while enjoying their favorite activities, including pickleball.
Check out this listing on Airbnb.

Just a mile from downtown Leland, this cozy home is your gateway to the best of Leelanau County. While you're minutes away from pristine beaches and hiking trails, the property itself offers a unique attraction—a private pickleball court. Perfect for enthusiasts or newcomers to the game, this feature promises hours of fun without having to leave home.
The residence boasts three main bedrooms, each with a private full bathroom, ideal for both families and couples. Prepare meals in the fully equipped kitchen, and later gather around the outdoor fireplace for a relaxing evening—firewood included.
Whether it's pickleball, disc golf, or simply reading a book from the home's library, this property offers a well-rounded vacation experience for all.
Book this Leland Pickleball property.

Nestled on the beautiful shores of Eagle Lake in Bloomingdale, Michigan, Eagle's Wings Lakehouse offers the best of all worlds—water, winter sports, and yes, a hidden gem—a pickleball court situated in the barn! This all-season retreat ensures a memorable vacation filled with a wide array of outdoor and indoor activities.
Imagine starting your day with a game of pickleball in your private barn court, followed by a scenic breakfast overlooking panoramic views of Eagle Lake. The property's sandy beach is not just picturesque but is also shallow and child-friendly, perfect for building sandcastles or soaking up some sun.
For those who love to fish, the lake provides a bountiful setting, and if boating is more your style, optional pontoon rentals are available for an additional fee.
Winter visitors are in for a treat, too. Situated less than 10 minutes from Bittersweet Ski Area and Timber Ridge, the lakehouse offers easy access to skiing, snowboarding, and tubing, making it a year-round paradise for outdoor enthusiasts.

Located just a stone's throw from St. Joe and Benton Harbor, this one-of-a-kind, family-friendly glamping destination invites you to step away from the hustle and bustle of city life. This isn't just a stay; it's an adventure in a repurposed old hatchery barn, situated amidst 30 acres of scenic land, hugged by a creek and a river.
But what sets this barn apart? The newly installed pickleball court! Ideal for enthusiasts or novices alike, the court provides an exciting new element to your vacation. Break a sweat with an exhilarating game of pickleball before plunging into the private in-ground pool, or just lounge under the shaded pergola on the beautiful new deck.
The barn itself promises a blend of rustic charm and modern comforts. High-pitched ceilings, skylights, and numerous fans create an airy atmosphere. While it offers limited air conditioning, a newly installed pellet stove ensures cozy evenings on cooler days. The well-appointed kitchen features all you need for countryside cooking, and the bathroom comes with on-demand hot water for refreshing showers.
This property is perfect for families, boasting three bedrooms: a queen bed with direct pool access, a twin bedroom convertible to a king, and a new space fitted with bunk beds. You can even pitch a tent outside if you wish to connect even closer with nature.
Your hosts are 'old school,' welcoming you personally upon arrival—no lock boxes here. They are more than happy to help you navigate the area's wineries, golf courses, hiking trails, and beaches. If you're planning a small event, discuss it in advance for approval and fees.
Additional conveniences include a water cooler with distilled water to offset the well water, which may carry a different smell than you're used to.
This barn offers a truly unique experience, fusing the charm of rustic living with modern amenities like a pickleball court. It's an escape designed to make you slow down and savor the joys of life in a rural setting.
Book this Repurposed Barn Airbnb.
Conclusion
Michigan, with its lush landscapes and numerous recreational activities, has always been a top vacation destination. Now, it's becoming a haven for pickleball enthusiasts as well.
From luxurious lakehouse retreats to rustic barn stays, these unique Airbnbs offer something for everyone—and all come with the added bonus of a pickleball court for hours of entertainment.
So the next time you plan a trip to the Great Lakes State, why not elevate your experience with a stay at one of these pickleball-friendly Airbnbs? Not only will you indulge in the comfort and leisure these properties offer, but you'll also be able to practice your serve, improve your backhand, and perhaps even initiate a family pickleball tournament.
Book now and make your next vacation a pickleball paradise!